Introducing AI-powered avocado sizing
In the ever-evolving world of agriculture, innovation is key to improving farming practices and ensuring growers continue to remain competitive. Helping growers stay ahead of the curb, Aerobotics is consistently driving cutting-edge solutions that empower production teams to better measure, manage, and market their yields.
Today, we are thrilled to announce the official launch of our latest innovation: AI-powered fruit sizing tailored specifically for the avocado industry. Building on the success of our industry-first AI fruit sizing technology, including our most recent macadamia nut-sizing solution, we are proud to present "Yield Insights for Avocados".
This innovative new solution allows growers to size fruit up to 5 times faster and provides a wealth of real-time data, including early, mid, and late season statistics. In addition, Aerobotics Yield Insights provides comprehensive reporting with views of accurate fruit size distributions with built-in scalability, suitable for all avocado growers as well as large, vertically integrated operations.
Read on as we unpack how our new avocado AI-sizing tool is set to redefine yield monitoring, enhance pre-harvest decision-making, and optimize export marketing logistics.
Industry challenges
The avocado industry has long suffered from a lack of standardisation regarding fruit sizing. Traditionally, avocado yield has been measured and monitored through a combination of rough calculations, historical data, and guesswork. Field scouts typically use manual calliper measurements or count the avocados on trees, comparing these to historical figures.
Regrettably, these traditional methods have often resulted in significant estimation errors, with discrepancies sometimes as high as 70% when compared to actual figures. Another major challenge for producers is the substantial time and labor resources required for accurate yield monitoring, especially when required to be conducted at scale. With labor and management resources allocated to other on-farm tasks, yield monitoring tends to be overlooked.
Introducing Avocado AI-sizing
The Aerobotics avocado AI-sizing tool is here to address these challenges. It leverages artificial intelligence to provide a standardised and efficient method for avocado sizing. Our proprietary models have been trained on thousands of avocado images collected in the field, each tailored according to cultivar, to identify and size across the belly of the avocado. So users just need to snap a picture in the field, no physical equipment or reference objects required, just a clear photo of the fruit. The software is accessible through the Aeroview® web and Aeroview® InField mobile app, complete with intuitive reporting for both growers and marketers.
Tangible benefits
This tool is designed to deliver substantial real-world benefits to avocado growers. It offers early insights into yield for production and marketing decisions, near real-time data turnarounds, reliable fruit size reports, and scalability for large-scale, multi-farm operations. It simplifies data collection in representative areas of each orchard, significantly reduces human errors, and eliminates the need for pen-and-paper records. It is also mobile phone-based, making it easy to use.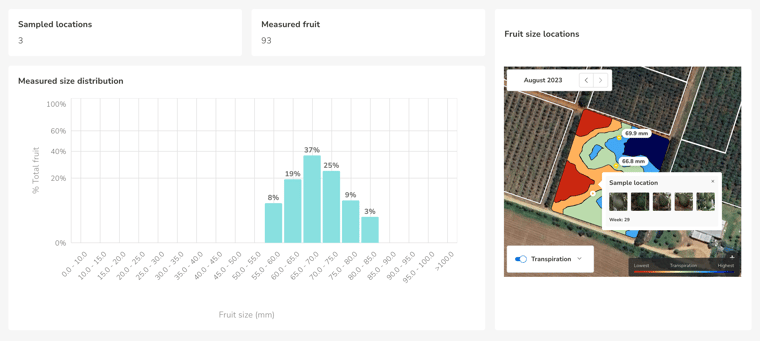 How the product works and when to use it
The avocado AI-fruit sizing tool is easy to use:
Aerobotics surveys the farm by drone (optional)
The Aeroview® web platform identifies the best trees for yield sample collection
Scouts capture pictures of fruit at the geo-referenced trees with the Aeroview® InField mobile app (no cellular service necessary)
Once connected to WiFi, the app syncs the data collected in field for processing
Growers are notified when the data is ready to view
Reports on size distributions and packing box capacity for avocados are available in the Aeroview® InField mobile app or on the Aeroview® web platform
All yield data is exportable in .csv format, with the option for API access
Our recommendation is to use this tool throughout the growing season, from fruit set to harvest. The streamlined data collection and improved turnaround of data processing, and reporting means that it's easy to keep sizing different varieties even with an extended harvest window. Using Aerobotics' AI sizing ensures all your cultivars are sized and reported on, even when labor and management resources are limited.
Aerobotics Yield Insights for avocados is now live.
To learn more about this solution and see how it can transform your avocado farming, submit your details below to speak directly to our team.